ORDER YOUR NOODLE BOXES, BUFFET PLATTERS OF NOODLES, STIR FRY AND CURRY HERE.
FINGER FOOD, SALAD BOXES ETC ALL DELIVERED HOT AND FREE
( ALL DISPOSABLE CATERING TRAYS, FORKS + CHOPSTICKS SUPPLIED)
* SEE CONDITIONS BELOW:
FREE DELIVERY TO CONCORD AREA FROM 12PM – MON-FRI  
MINIMUM ORDER $50
FREE DELIVERY OUTSIDE CONCORD 5 KM RADIUS 12.15PM MON – FRI
MINIMUM ORDER $100
ORDERS WITHIN THE LOCAL CONCORD AREA MUST BE RECEIVED BEFORE 11AM TO GUARANTEE DELIVERY.
CBD & GREATER SYDNEY ORDERS MUST BE RECEIVED 1 DAY PRIOR.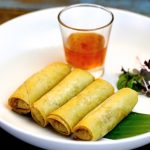 1.80
regular
40.00
catering pack
$
Vegetarian spring rolls
w` sweet chilli
Regular: Minimum Order 6 pieces
Catering Pack: 25 pieces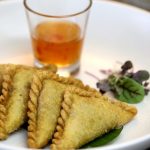 1.80
regular
40.00
catering pack
$
Vegetarian Curry Puffs
w` sweet chilli
Regular: Minimum Order 6 pieces
Catering Pack: 25 piecces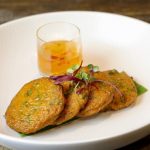 2.00
regular
45.00
catering pack
$
Thai Style Fish Cake
w` sweet chilli & chilli mayo
Regular: Minimum Order 5 pieces
Catering Pack: 25 pieces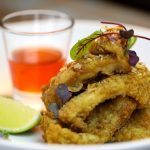 18.00
regular
80.00
catering pack
$
Salt & pepper squid
w` blood orange dressing
Regular: serves 1
Catering Pack: serves 10-15ppl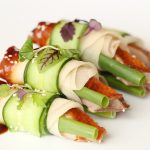 22.50
regular
95.00
catering pack
$
Peking Duck Pancakes
w` cucumber, shallot & hoisin sauce
Regular: 5 pancakes per serve
Catering Pack: 25 pancakes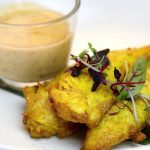 3.50
regular
75.00
catering pack
$
Chicken Satay Tenderloin Skewers
Regular: Minimum Order 4 skewers 
Catering Pack: 25 skewers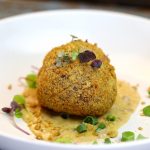 4.00
regular
87.50
catering pack
$
Thairancini
w' Massaman beef & Mozzarella
Regular: Minimum Order 2 pieces 
Catering Pack: 25 pieces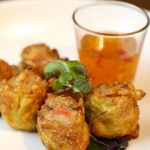 2.20
regular
50.00
catering pack
$
Crispy Pork & Prawn Dim Sims
w` sweet chilli
Regular: Minimum Order 6 pieces 
Catering Pack: 25 pieces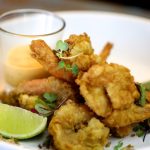 3.50
regular
75.00
catering pack
$
Salt & pepper prawns
w' chilli mayo
Regular: Minimum Order 6 pieces
Catering Pack: 25 pieces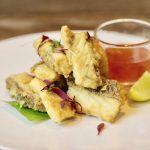 18.00
Small Tray
90.00
Large Tray
$
Crispy Salt & Pepper Barramundi
w' blood orange dressing
Small: serves 1
Large Tray: serves 10-15ppl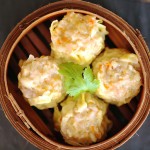 2.20
regular
50.00
catering pack
$
Pork & prawn dim sim
w` soy dipping sauce
Regular: Minimum Order 6 dim sims 
Catering Pack: 25 dim sims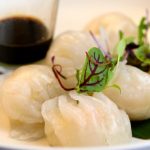 2.50
regular
55.00
catering pack
$
Prawn & bamboo dumplings
w` soy dipping sauce
Regular: Minimum Order 6 dumplings 
Catering Pack: 25 dumplings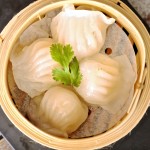 2.50
regular
55.00
catering pack
$
Prawn & scallop dumpling
w` soy dipping sauce
Regular: Minimum Order 6 dumplings 
Catering Pack: 25 dumplings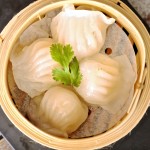 2.20
regular
50.00
catering pack
$
Vegetarian dumplings
w` soy dipping sauce
Regular: Minimum Order 6 dumplings 
Catering Pack: 25 dumplings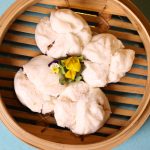 3.20
regular
75.00
catering pack
$
Steamed Pork Buns
w` soy dipping sauce
Regular: Minimum Order 2 buns 
Catering Pack: 25 pieces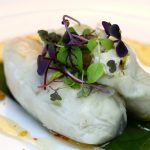 3.50
regular
75.00
catering pack
$
Poached chicken & coconut
Regular: Minimum Order 2 rice paper rolls 
Catering Pack: 25 rice paper rolls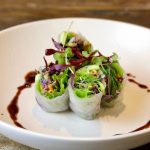 3.50
regular
75.00
catering pack
$
Vegetarian & crispy greens
w` satay dipping sauce
Regular: Minimum Order 2 rice paper rolls 
Catering Pack: 25 rice paper rolls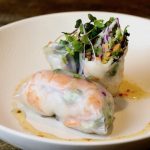 4.00
regular
85.00
catering pack
$
Prawns & crispy greens
w` sweet chilli dipping sauce
Regular: Minimum Order 4 rice paper rolls 
Catering Pack: 25 rice paper rolls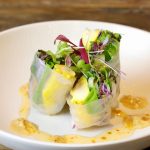 3.50
regular
75.00
catering pack
$
Chicken satay rice paper roll
Regular: Minimum Order 2 rice paper rolls 
Catering Pack: 25 rice paper rolls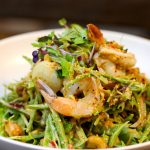 15.00
Small
22.00
Large
135.00
Platter
$
Shredded Snowpea, scallop & ocean prawn
Platter: serves 8-10 ppl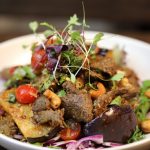 12.00
Small
15.00
Large
105.00
Platter
$
Warm beef, eggplant, tomato, greens, thai herb
Platter: serves 8-10 ppl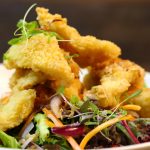 12.00
Small
18.00
Large
105.00
Platter
$
Salt & pepper squid
Platter: serves 8-10 ppl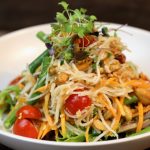 12.00
Small
15.00
Large
105.00
Platter
$
Thai Chicken Salad
Platter: serves 8-10 ppl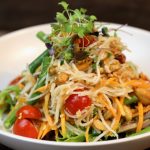 8.50
Small
15.90
Large
95.00
Platter
$
Papaya Salad
Platter: serves 8-10 ppl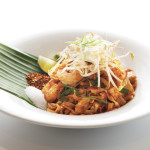 9.90
Small
15.90
Large
150.00
Platter
$
Pad Thai
Platter: approx. 10 large noodle boxes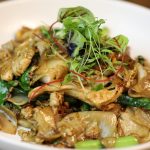 9.90
Small
15.90
Large
150.00
Platter
$
Pad See Ew
Platter: approx. 10 large noodle boxes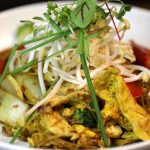 9.90
Small
15.90
Large
150.00
Platter
$
Singapore Noodles
Platter: approx. 10 large noodle boxes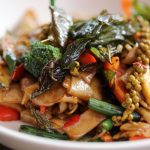 9.90
Small
15.90
Large
150.00
Platter
$
Pad Ki Mao
Platter: approx. 10 large noodle boxes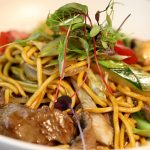 9.90
Small
15.90
Large
150.00
Platter
$
Mongolian Stirfry
Platter: approx. 10 large noodle boxes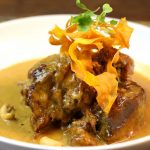 18.90
regular
180.00
platter
$
Massaman Beef Curry
separate rice included
Platter: approx. 10 regular serves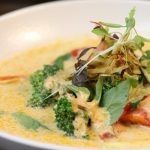 15.90
regular
150.00
platter
$
Red Curry
separate rice included
Platter: approx. 10 regular serves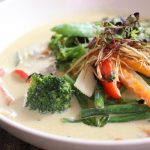 15.90
regular
150.00
platter
$
Green Curry
separate rice included
Platter: approx. 10 regular serves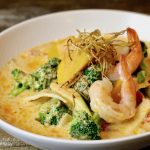 15.90
regular
150.00
platter
$
Penang Curry
separate rice included
Platter: approx. 10 regular serves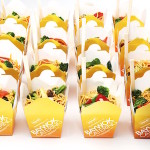 9.90
Small
15.90
Large
150.00
Platter
$
Noodle Box – Make your own
Fried Rice & Steamed Rice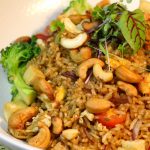 8.90
small
14.90
large
140.00
platter
$
Cashewnut Fried Rice
Including vegetables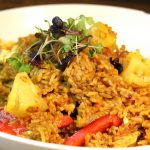 8.90
small
14.90
large
140.00
platter
$
Pineapple fried rice
Including vegetables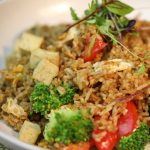 8.90
small
14.90
large
140.00
platter
$
Plain Fried Rice
Including Vegetables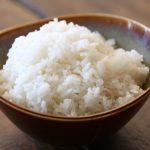 2.50
Small
25.00
Platter
$
Steamed Rice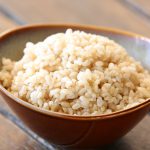 2.50
Small
25.00
Platter
$
Brown Rice